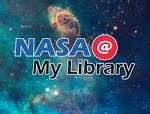 The Indiana State Library is excited to be chosen to participate in the NASA@MyLibrary project in 2019.  Through this program, the State Library receives 2 different STEM kits to circulate among public libraries in Indiana.  One kit is "Sun-Earth-Moon Connections" and the other kit is "Be a NASA Detective:  Expanding Your Senses".  The Indiana State Library will also receive grant money for the program that will be used to replicate more kits for checkout.
Each kit contains books, science tools and STEM activities related to the topic.  The purpose of this project is to promote STEM activities for under-served and under-represented populations.  Find additional astronomy resources HERE.
Follow these links for more information about the kits including activity ideas:
How to Reserve a NASA@ My Library Kit:

Kit Borrowing Guidelines
Circulation Information:
NASA@ My Library Kits check out for 30 days.
Limit of one (1) N@ML kit per library system at a given time.
Please, no back-to-back reservations of the same kit.
Renewals are not available.
Please plan your program carefully to coincide with your reservation.
Please, do not reserve the kit unless you plan to use it in a program; if you want to know what is in a kit, you can view the contents on our website (see links above).
Kits are primarily meant for public library use in staff training or public programming. They are not to be loaned out to patrons.
Shipment of Kits:  All Indiana State Library kits are shipped via the INfoExpress courier system.  If your public library is not part of this service, please work with the closest public library who does use INfoExpress to book your kits.  Kits can only be used in Indiana.
Schools:  Due to the parameters of the NASA@ My Library project, school libraries are not  eligible to borrow the NASA kits.
Reserving Kits:  NASA@ My Library kits can be reserved here.
Due to the COVID-19 pandemic, NASA kit holds are currently unavailable.
If you have questions or encounter any issues reserving a kit, please contact Beth Yates at: byates@library.in.gov.
For more information about the NASA@MyLibrary program, please contact Kara Cleveland, Professional Development Office Supervisor (kcleveland@library.in.gov), or Beth Yates, Children's Consultant (byates@library.in.gov).
---
NASA@ My Library is a national STAR Library Network (STAR Net) initiative that connects NASA, public libraries, state libraries, and their communities. Together we are working to increase STEM learning opportunities for millions of library patrons nationwide, particularly those under-served in STEM education.
NASA@ My Library is based upon work funded by NASA under cooperative agreement No. NNX16AE30A. Any opinions, findings, and conclusions or recommendations expressed in this material are those of the NASA@ My Library initiative and do not necessarily reflect the views of the National Aeronautics and Space Administration.