Congratulations to the
Brandi Winston
Glendale Branch of the Indianapolis Public Library
as well as the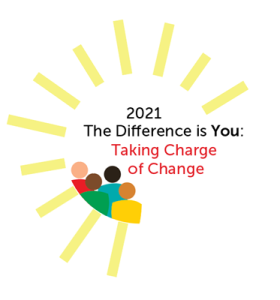 2021 The Difference is YOU:

Taking Charge of Change
Friday, September 17, 2021
A training event for support staff and paraprofessionals.
Created by the Indiana State Library's
Professional Development Committee
DIY Session Descriptions
9:00 – 10:00 a.m. ET 
Session:  Developing Welcoming Spaces for LGBTQ+ (1 LEU)
Presented by:  Jayne Walters, Indianapolis Public Library
Description:  Creating welcoming spaces for members of the LGBTQ+ community is easier than you might think. In this session you'll learn some of the small and big things you can do to help create those spaces for not just patrons, but also your coworkers and employees.
**
Session:  Developing Tech Intuition:  Help Low-Skilled Users Navigate Websites and Apps (1 TLEU)
Presented by:  Marianne McKenzie and Alex Hampton
Description:  Websites and apps often rely on "intuitive design" so that users can navigate them without getting confused. Low-skill tech users often lack the experience needed for good "tech intuition" which prevents them from independently navigating new websites or apps. This session will explore common design patterns and user interface characteristics that you can teach patrons so that they can quickly develop tech intuition and become more confident when using new apps and websites.
**
Session:  Reader's Advisory:  The Art of Finding the Right Book (1 LEU)
Presented by:  Laura Jones
Description: Join librarian, book review blogger, and bookstagrammer Laura Jones as she shares her favorite readers advisory tools and tips to help library staff find the right book for even those patrons with the most eclectic tastes!
10:30 – 11:30 a.m. ET
Announcement of DIY Award Winner – Jacob Speer, Indiana State Librarian
Keynote:  Librarian Problems (1 LEU) [This session was not recorded]
Presented by:  William Ottens
Description:  William Ottens is the creator of the popular Librarian Problems blog/Facebook page/Twitter feed and author of Librarian Tales: Funny, Strange, and Inspiring Dispatches from the Stacks. He became a librarian because he loves books and reading (which is so not what he does all day). He earned his MLS in 2010 through the School of Library and Information Management at Emporia State University and has experience in reference, cataloging, collection development, and as a director of a small library. He now works as a Youth Services Associate with the Mid-Continent Public Library in Kansas City, Missouri.
 1:30 – 2:30 p.m. ET
Session:  Book Connections @INSPIRE:  New for Indiana Children's & Teen Services (1 TLEU)
Presented by:  Nick Glass
Description:  BookConnections.org is the newest INSPIRE resource for all Indiana public library children and teen services. With games, homework help, and homeschool support for families, and library programming, book promotion, and collection analysis tools for library professionals, you'll be equipped to deepen reading connections for everyone in your community.  Book Connections was developed to meet the needs of our public libraries from the group behind TeachingBooks, another INSPIRE resource.
Prior to and during the session, freely explore this resource at https://bookconnections.org.
**
Session:  Speak Up:  Responding to Uncomfortable Situations (1 LEU)
Presented by:  Paula Newcom, Northeast Regional Coordinator and Kara Cleveland, PDO Supervisor for the Indiana State Library
Description:  This session covers real incidents that happened in libraries and good ways to respond to those uncomfortable situations. Great pro tips for new & seasoned library workers.
**
Session:  Teen Tips (1 LEU)
Presented by:  Beth Yates, Children's Coordinator for the Indiana State Library
Description:  Why do teens behave the way they do?  Why should we welcome them when they are loud and messy?  What's the best way to interact with them?  Teen librarians are not the only staff members that deal with teens so it's good for all staff members to have these tips in their toolbox.  We'll share some teen development basics and highlight some tips for smooth teen interactions at this session.
3:00 – 4:00 p.m. ET
Session:  Support Staff Stars (1 LEU)
Presented by:  Ashley Bartley, Julie Jolliff and Sarah Morbitzer
Description:  This session will highlight support staff who did innovative programs during the pandemic.  They will cover and ins and outs of how the program was done, how it went, what they learned and the outcome of the program.
**
Session:  How to Talk  with Your Boss (1 LEU)
Presented by:  Lynn Hobbs, Chris Scandling, Donna Seaton and Jason Fields
Description:  Our panel will discuss the "not-so-fun but "oh-so-real" issues of troubleshooting relationships with a supervisor.  Some possible topics:  What if your boss isn't approachable?  Is there a problem you want to discuss?  Do you need strategies for those conversations?  This will be the place for you!
**
Session:  Diverse Books Toolkit (1 TLEU)
Presented by:  Nick Glass
Description:  Join this session to become versed with the Diverse Books Toolkit from our INSPIRE, state-funded TeachingBooks service.  You'll discover new ways to…
Identify exceptional diverse books for your community
Analyze your collection for diversity and inclusion
Facilitate book clubs and story times that videos and recordings with featured authors and illustrators.
 Prior to and during the session, freely explore this resource at https://teachingbooks.net/DiverseBooks



by