The Difference is You Conference 2023


Date: September 15, 2023, 9:00 AM to 3:45 PM, eastern
Location:  Indiana State Library, 140 North Senate Avenue, Indianapolis, Indiana
Difference is You Award:  Will be announced at the Difference is You Conference – September 15
LEUs – each presentation is worth 1 LEU / 4 LEUs maximum for the conference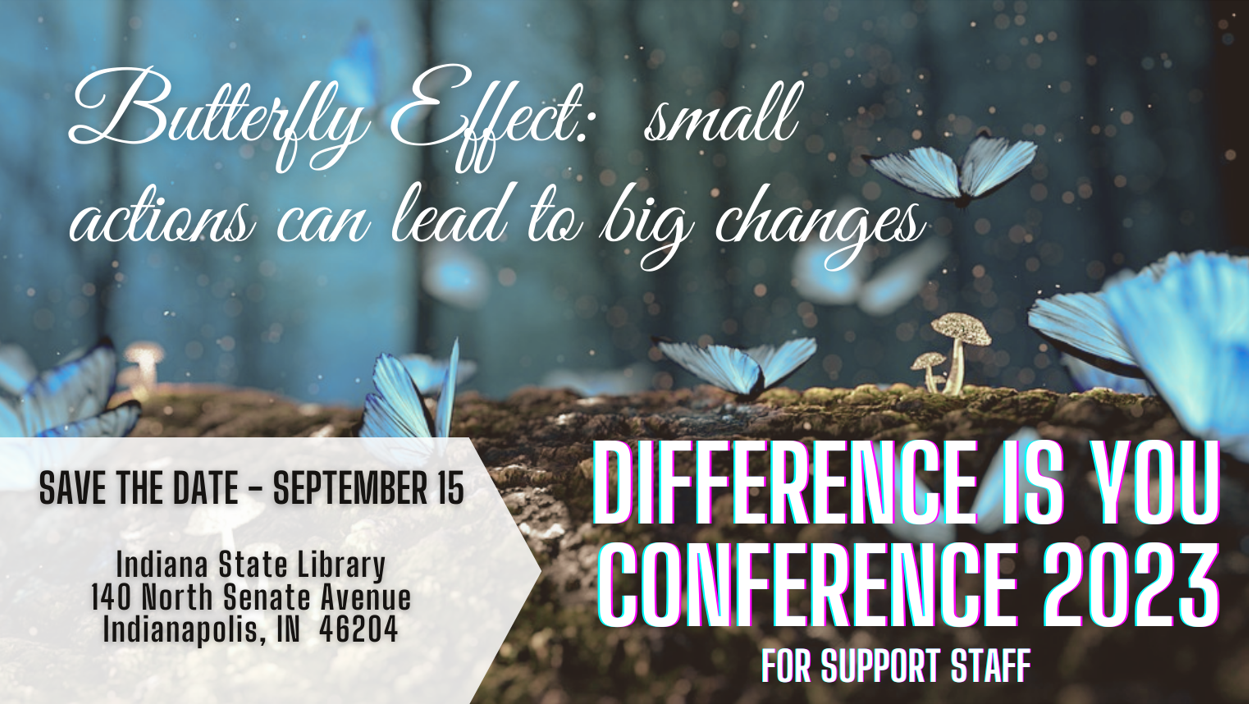 ---
Difference is You Conference Schedule
Pro tips for attending conference:
Make sure you dress in layers (some rooms are warm & others cooler)
Bring these items if needed – a water bottle, notebook, tote bag
Make sure to bring your parking voucher in with you so it can be validated at the registration desk
Click here for a map to the parking areas
9:00 – 9:30 AM – Registration in the Great Hall of the Indiana State Library
Session 1 – 9:30 to 10:30 AM
Tips for Creating Magical Customer Service Experiences | Presented by Melissa Merida – History Reference Room
Description: Great customer service magic can happen any where and by anyone, creating great work experiences and positive cultures. Library public service can be draining and daunting, but some simple tricks adopted from Disney, the ones known for great customer experiences, can bring a little magic to your work day. This session will share basic steps to creating  positive interactions and empower you to take a little bit of magic back to your library.
Out of the Box Programming | Presented by Bambi Pea – Author's Room
Description:  There is so much more to Youth Programming than the traditional style of programs. Come learn how you can still meet the needs of your patrons any day and any time. The programming presented will also be free or low cost programming you can do on any budget!
Growing in Your Library | Presented by Beth Gaff – Room 401
Description:  This session we will talk about growing your knowledge within the library to achieve your personal goals of success.
Welcome from Jake Speer & Announce DIY Award Winner – 10:30 to 10:45 AM – History Reference Room
Keynote Address – 11:00 AM to 12:00 PM
Bystander Intervention in the Library:  What do I do? | Presented by Donna Seaton, Evansville – History Reference Room
Description:  This presentation is the who, what and why of Bystander Intervention, and the tools needed to safely intervene. A video in this presentation shows scenarios of situations that happen in a library and the ways in which to intervene safely.
Lunch – 12:15 to 1:15  PM and Indiana State Library Tours
Session 2 – 1:30 to 2:30 PM
Library Legislation Basics | Presented by Vanessa Martin, Mike Williams, Julie Wendorf, Fonda Owens – History Reference Room
Description:  Want to be an advocate for libraries but have no idea where to start?! Come to this session to learn the basics about library advocacy and get a brief overview of how the legislative process works. This session will be presented by members of the Indiana Library Federation Advocacy Committee.
Inviting & Engaging Teen Spaces and Programs | Presented by Diane Rogers – Author's Room
Description:  Smells like Teenage Spirit is such an iconic song for a reason. What are the things that help libraries create an environment that manages behavior instead of controlling behavior. At the same time, what are the elements of library spaces that welcomes and encourages teens to visit.
(Free!) Science Kits for Your Library | Presented by Sarah Morbitzer – Room 401
Description:  The Institute of Electrical and Electronics Engineers raises funds for public libraries to make science kits as easy to check out as a book! These funds provide access to high-quality, hands on STEM experiences at zero cost to libraries and their patrons. The creation of a circulating science kit collection at your library may have felt like a dream, but with this opportunity it can become a reality. Come hear how the North Manchester Public Library successfully applied for funding and how they are cataloguing, promoting, and programming their new science kit library. Empower your patrons with problem solving challenges, hands-on learning that engages the senses and expanded skills in science, technology, engineering and mathematics.
Session 3 – 2:45 to 3:45 PM
Freedom on the Frontlines | Presented by Darcy Armstrong – History Reference Room
Description:  Frontline public library staff often bear the brunt of tense interactions with concerned, upset, or openly hostile patrons. Those interactions have increased in an era of politicized challenges, book bans, and First Amendment audits. This presentation is a no frills look at what those interactions can be like and a practical guide for frontline staff on how to handle them.
Programs in a Bag from the Indiana State Library and TeachingBooks.net | Presented by Suzanne Walker & Kym Davick – Room 401
Description:  Youth services is a busy place. Wouldn't it be great if you could check out a storytime kit with all the materials you need ready to go? And a plan included? Or maybe get a set of books for a book club with the questions already written?  And maybe vetted programing materials from a trusted source? Guess what? You can! Learn more about these and other shortcuts you can take by borrowing program kits from the Indiana State Library in this interactive session with Suzanne Walker, Indiana Young Readers Center Librarian and Kym Davick, Implementation & Training Manager, TeachingBooks.net.
Games in Libraries 101 | Presented by George Bergstrom – Author's Room
Description:  Games are more than fun! When playing a game, individuals are shaping their personal soft skills during each game move, turn, and win (or loss!). Libraries are able to use the knowledge of these personal growths (or losses!) when marketing their programming, influencing their collection developments, and reaching underserved communities. Come to this open discussion to learn, share, and ask questions about games in libraries.
---
Presenter Bios
Bambi Pea – Supervisor/ Youth Librarian, Indianapolis Public Library-Warren Branch.  Bambi is a Supervisor Librarian for the Indianapolis Public Library Warren Branch. She has 15 years experience in Youth Services, specifically with programming. She has created and executed a variety of free and low cost programs for children birth to 18 years of age. At home she has three wonderful boys/men, ages 23, 17 and 11, and a dog and two cats.
Beth Gaff – Peabody Public Library.  Beth Gaff has worked at the Peabody Public Library for 18 years. Currently she has an associate in library science, Marketing Communications degree, IT Specialist Certification and is currently taking classes for a bachelor's in business administration. She started out as a circulation clerk, and has moved to various positions within the library and even outside the library, being the NICCL (Northern Indiana Computer Consortium for Libraries) chair. She loves to be educated and expand on her duties within the library field.
Darcy Armstrong – Public Service Manager Eckhart Public Library.  I am a life-long Hoosier, reader, and library supporter with a background in history and education. I have been at Eckhart Public Library since 2008, first as a teen services librarian before becoming public service manager. I earned my MLS from IUPUI in 2017.
Diane Rogers – School Media Specialist Ben Davis Ninth Grade Center.  Diane Rogers is the School Media Specialist at Ben Davis Ninth Grade Center and Vice President of Indiana Library Federation. She has 29 years teaching experience in Indiana public schools. She has worked in elementary, middle, and high schools having spent the most time in high schools. Diane has always worked in urban schools with a highly diverse clientele featuring students with multiple racial and ethnic backgrounds and socio-economic levels.
Donna Seaton – Training Specialist at Evansville Vanderburgh Public Library.  Donna Seaton has worked at the Evansville Vanderburgh Public Library for over 36 years, starting in circulation, including a supervisor for 20 years, and most recently as the Training Specialist system wide.  As the Training Specialist, Donna develops and conducts training for both new and existing employees and conducts On-boarding for all EVPL employees. Donna has presented and shared this important presentation with several libraries in the US.   Donna enjoys helping new and existing staff feel at ease in their positions by providing them knowledge and giving them the tools, they need to do their job.  Donna loves the library, reading, travel and spending time with her husband, family and friends.
Fonda Owens – Director, La Porte County Public Library.  Fonda Owens is the director of the La Porte County Public Library. She has served in a variety of roles within ILF. The one she enjoys the most is the ILF Advocacy Committee. She is not all work and no play. She enjoys gardening, and cooking—especially concocting her own homemade bread recipes. She believes in the power of spoken words and has a great love of storytelling.
George Bergstrom – Southwest Regional Coordinator, Professional Development Office – Indiana State Library.  George Bergstrom has been working in libraries since 1997. First as a part time reference assistant in a public library then to full time both in reference and as a computer lab supervisor and finally to a reference librarian after receiving an MLS from IU in 2003. The next career phase was in academic libraries seeing jobs in large research universities and small community colleges. In 2019 he entered the third phase of his career with a job with the Indiana State Library as a regional coordinator in the Professional Development Office. Presenting for groups from 1 – 500+ across these three types of libraries, he loves audience participation during trainings. He has also served in leadership of the ALA's Games and Gaming Roundtable.
Julie Wendorf – Director, Crown Point Community Library.  Julie Wendorf has been the director of the Crown Point Community Library since 2018. She is a member of the ILF Board, IPLA Board, and the ILF Advocacy Committee. She is active in community service organizations including Rotary International and Lions Club. She has a passion for library collaboration projects with other community organizations and doing library outreach.
Kym Davick – Implementation & Training Manager, TeachingBooks.  Kym Davick brings 26 years of teaching in a public school setting, curriculum planning, mentoring, and leadership experience to her position at TeachingBooks where she oversees the implementation of this literacy service. She has taught most recently as an elementary classroom teacher. Her experience in the classroom, as a mentor/teacher leader, and as a Cooperating Teacher for preservice educators from area universities add to her understanding of teachers' roles and student learning styles.
Melissa Merida – Director, Floyd County Library.  Melissa Merida, Executive Director of the Floyd County Library, has a long history and commitment of expanding Library Services through providing outstanding customer service for all members of the community. This attention to providing strong service to gain the public's trust and enthusiasm to use public services began during her experience interning at Walt Disney World as a undergraduate.  The lessons learned there have followed her throughout her professional career. She has traveled throughout the State teaching customer service strategies for non profits and government entities for many years.
Mike Williams – Manager of Special Projects, Indianapolis Public Library.  Mike Williams, an award winning librarian, and a lifelong Indianapolis resident has held various positions with the Indianapolis Public Library since 1982. Currently he is the Manager of Special Projects.  He is a passionate advocate of library services, an early proponent of eBook technologies, and he is now serving as immediate Past President of the Indiana Library Federation.
Sarah Morbitzer – North Manchester Public Library.  Sarah Morbitzer is the Children's Department Manager at the North Manchester Public Library.  She has worked or volunteered in libraries for 21 years and is passionate about making libraries the center of community life.  She believes that librarians have the ability to provide patrons with experiences and opportunities that meet educational, recreational and social needs that would be otherwise neglected.  In her free time she enjoys reading, baking and spending time with her 6 year old son.
Suzanne Walker – Indiana Young Readers Center Librarian / Indiana State Library.  Suzanne Walker received her Master of Library Science from Indiana University. She is currently the Indiana Young Readers Center Librarian and Director of the Indiana Center for the Book, an affiliate of the Library of Congress. She coordinates Indiana's Letters About Literature competition annually. Suzanne judged the National Arts and Humanities Youth Program Awards in 2013 and 2014 and the Indiana Poetry Out Loud competition in 2017. Most recently she was a judge for the 2020 Indiana Authors Awards and the 2021 Lee Bennett Hopkins Poetry Award. She has presented numerous times at Indiana Library Federation's District conferences, annual conferences, and youth conferences and is proud to have been interviewed about Indiana authors by NPR.
Vanessa Martin – Director, Greensburg Decatur County Public Library.  Vanessa Martin has been at the Greensburg Decatur County Public Library for 12 years, 7 of those as the current Director.  She is also the current Co-Chair of the ILF Advocacy Committee.  She has 17 years of experience working in Indiana public libraries.  She has also been active in the governance of Evergreen Indiana, serving on different committees.  She has held many job titles, but simply put, she is passionate about libraries and helping others.