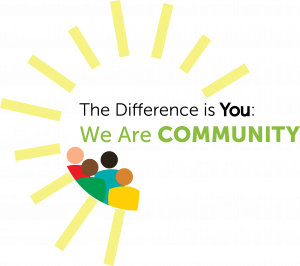 The Difference is You:
We are Community!
A training event for support staff and paraprofessionals will be held on Friday, September 13th at the Indiana State Library 315 W. Ohio Street; Indianapolis, IN. 9:00a.m.-3:30 p.m. EST;  and created by the Indiana State Library's Professional Development Committee.  
Register from now until August 1st to take advantage of the early bird rate of 25.00 per person.  After August 1st, registration is 30.00 per person.  After registering, please pre-select  your sessions here:  https://www.surveymonkey.com/r/8WF88Y5
Registration closes Friday, August 16th at 4:00 p.m. EST.
The conference is currently FULL!  You can continue to register to be placed on the Waitlist.  Thank you for your support!

Want to nominate yourself or a colleague for the Difference is You Award?     Nominations are now closed!  
2019 Keynote Speaker: 
Bev Martin, former Director, Johnson County Public Library
Session Titles and Descriptions:  (sessions subject to change)
Fill a Niche at Your Library:  Participants will learn about Niche Academy, the basics of setup, and all its uses. They will also get some general information on how to create custom videos for their patrons or staff.  1TLEU
Beyond the Branch Walls: Developing Strategic Partners, Library Advocates, and Life-Long Learners:  For libraries and librarians to remain relevant and seen as a community asset; we must understand our community's needs and aspirations. We must become one with our community and speak with ONE VOICE that Libraries Matter!  We must stay true to our mission that developing Life-Long Learners Matter! Participants will learn how to:
engage their community & develop strategic partners
develop outcome-based programs to address communities' needs
develop a community of readers & lifelong learners.      1 LEU  
We are Wiser Together: World Café as a Method of Engaging Indiana Communities:  Engaging our communities has become increasingly important as we strive to stay relevant in changing times. Learn about the World Café method of engagement and how to organize an event in your library by hearing from a World Café Host. Everyone will participate in a mini World Café Conversation to get Interactive experience in this method of engagement.  World Café Conversations is a method for creating collaborative dialogue around questions that matter in service to real work. The World Café is built on the assumption that, "people already have the wisdom and creativity to confront even the most difficult challenges; that the answers we need are available to us; and that we are wiser together than we are alone."   This method of engagement is highlighted in the ALA Libraries Transforming Communities: Methods for Change initiative that has devoted resources in the belief that libraries are ideal institutions to lead dialogue and deliberation efforts in communities.  ALA has provided resources and training around methods of engagement and continues to provide this training. The World Café method of engagement invites a large group of people to have multiple rounds of kitchen table style conversation in a specified time frame around a particular topic.   Community Engagement is becoming increasingly important as libraries look to remain relevant in changing times.  1LEU  
Introduction to Genetic Genealogy:  This presentation will cover the basics of genetic genealogy, including DNA testing, the benefits of DNA testing in genealogy, interpreting DNA results, and ethical considerations.  1LEU
Affirming the Librarian Leader: Internal and External Emotional Intelligence & Mindfulness in Successful Leadership Practice:   Librarian Leaders, librarians, and library staff will become familiar with the concepts of emotional intelligence and mindfulness practice shapes successful libraries for the communities we serve.  1LEU


Teambuilding 101:   Library staff work in an environment that relies on working together. There is no quick fix for building teams or helping build a team atmosphere. Find out why being a team is so important and learn how to build better teams within your library.  1 LEU                        
Enriching Connections to Books & Authors with the Newly Updated INSPIRE-resource TeachingBooks.net:  Join this session to discover powerful and easy ways to expand the reading experiences of the children and young adults in your community. TeachingBooks — an INSPIRE resource, was recently rebuilt. New look. New tools! So check out the latest ways to use these dynamic, digital materials in this session led by TeachingBooks' Founder and director.  1 TLEU
Authenticity with African-American Culture: Using Coretta Scott King Books In Your Library and Classroom:   Celebrating 50 years in 2019, the Coretta Scott King Book Awards have selected the best books by and about African Americans for half a century! Join this session to learn about these superb books, and discover ready-to-use digital materials that make integrating these books into library programming and classrooms easy and culturally relevant. The newly updated INSPIRE resource TeachingBooks will be highlighted, and the session will be led by Nick Glass, a long-standing member of the CSK Book Awards committee.  1 TLEU
Running STEM Programs for Youth:  Would you like to offer STEM programming at your library, but worry that you don't know enough about science, technology, engineering, and math to run an effective program? Are you just not sure where to start? Never fear–you don't need to be an expert!  In this session, you will learn how to encourage scientific thinking, ask inquiry-based questions, and help kids make connections between STEM topics and the world by using the Leap into Science program as a model.  We'll put these theories into practice during a hands-on mini-program within the session.  1LEU
So that's how you do that!?:  Apps and PDFs and the Cloud, oh my! Overwhelmed by ever-changing computer technology? Have a computer or technology question, but are afraid to ask? Well, be afraid & overwhelmed no more! This open lab time will be a judgment-free zone.  Bring your computer questions and we will do our best to answer them. This session is currently FULL.  1TLEU
Community Engagement:  You CAN do it!  So what is community engagement anyway? Community Engagement is increasingly important as libraries look to remain relevant in changing times. By using tools and methods of engagement, library staff learn what is important and valued in their communities and are able to make decisions about the best use of their resources and are also able to share that information with key stakeholders in their communities. And community engagement is easier than you think! We'll take a look at what community engagement is and the differences between engagement and outreach, as well as exploring different tools and methods you can use to creatively engage your community.    1LEU
Soft Skills for Library Employees:  What are soft skills??!!  Soft skills are personality traits and behaviors you display in different situations.  Hard skills are the knowledge you possess (how to do something).  Find out what soft skills are and the top skills that library employers look for.  1LEU



by