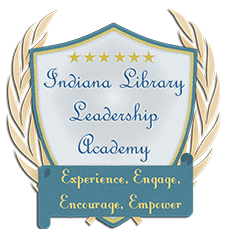 The 2016-2017 Indiana Library Leadership Academy began October, 2016.
Check back for information on the 2018-2019 Cohort and on plans for an online Leadership Series open to all library workers in the second half of 2017.
Intensive learning experience launches this year-long Academy
Keynote speaker – Catherine Hakala-Ausperk
Meet experienced colleagues through group coaching
Participants complete an individual project—benefitting the library profession and their communities
The Application deadline has past.
 Location:   Prindle Institute for Ethics, Depauw University
Application deadline:  June 1, 2016
To prepare the library community's future leaders for 21st-Century challenges, the Indiana State Library's Professional Development Committee established the Indiana Library Leadership Academy.
At the end of this program, participants will: understand the foundations of leadership in regards to values, vision, and commitment; recognize the core skill of service as it relates to leadership; identify key steps for building library teams and measuring library success; develop a network of library professionals and complete an individual project applicable to their own library.
 This project is made possible by a Library Services and Technology Act grant from the U.S. Institute of Museum and Library Services administered by the Indiana State Library. The Indiana State Library would like to thank DePauw University and the Putnam County Public Library for their support and partnership during the 2016 retreat.
Get more information about InLLA



by