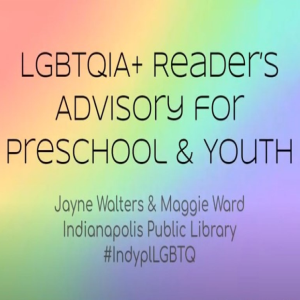 LGBTQIA+ literature is not just for Pride Month! Librarians from the Indianapolis Public Library will share their top LGBTQIA+ literature picks for youth. They will introduce titles across multiple genres and age groups that can be easily incorporated into every day displays and reader's advisory. Books from every aspect of the rainbow for parents and youth ages 12 and younger to read together or on their own will be shared.
Date Recorded: 10/29/20
Format: Archived YouTube Video
Presenters: Jayne Walters / West Indianapolis Branch Manager and Maggie Ward / Outreach Services Manager – Indianapolis Public Library.
Resources:
---