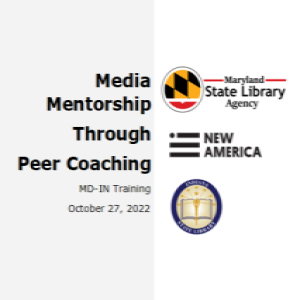 This virtual, one-day training brought together Indiana and Maryland youth services staff to learn about the use of digital media in libraries and the role library staff can play as media mentors to youth and caregivers.
Part 1 explores technology/media trends and basic concepts surrounding media mentorship. 2 hrs / 2 LEUs
Part 2 explores practical applications and peer learning, helping library staff to incorporate media mentorship principles into their library programs, collections, and services. 2 hrs / 2 LEUs
Date Recorded: 10/27/2022
Format: Archived YouTube Video
Presenters:  This training is facilitated by a team of library and media professionals, including Lisa Guernsey of New America; Dorothy Stoltz, consultant/retired librarian from Carroll County Public Library (MD); Conni Strittmatter, Youth & Family Engagement Manager, Baltimore County Public Library; and Amy Koester from Skokie Public Library (IL), in addition to facilitation by Beth Yates, Children's Consultant, Indiana State Library, and Carrie Sanders, Youth Services Coordinator, Maryland State Library Agency. Additionally, several library professionals from around the country are special guests, sharing their particular expertise and knowledge in the application of media mentorship work in libraries and youth services.
Resources:
All slides and a resource sheet can be found in this Google Folder
Part 1 = 2 hours / 2 LEUs
Part 2 = 2 hours / 2 LEUs